Depending on where you live, this is the time of the season where you start to get stir crazy.
Kids are dying to play outside, but it's way too cold and requires too many layers!
It's important to have indoor toys that can help keep your toddlers engaged through the long winter months.
That's why I think having an indoor slide for toddlers is so helpful!
I've rounded up some of my favorite indoor slides to ensure that your little ones stay active and busy all winter long!
And as any mom knows, an idle toddler is *not* a well-behaved toddler, so the more fun they can have indoors without resorting to screens, the better!
This post may have affiliate links. If you click one of these links and make a purchase, we will be paid a commission at no additional cost to you.
Best Indoor Slides for Toddlers
This is exactly what I imagine when I think, indoor slides for toddlers.
This red and blue basic slide is perfect for small spaces, playrooms, or bedrooms.
Your little one can have an absolute blast climbing up and safely sliding down over and over and over again from now until eternity! This is a great basic budget option!
If you have a little more room, this is a really cool option!
In addition to a slide, this set also boasts a toddler swing *and* a basketball hoop, guaranteeing that your little one will stay engaged.
The swing's weight capacity is 66 pounds, so this is a great option for bigger toddlers as well. I especially love the color scheme – it will easily blend in with your space.
Don't let the brand name fool you – there won't be a lazy toddler in the house with this super cute and fun kids slide!
This slide has an adorable mint and gray color scheme with a fun panda design.
The steps up to the slide are solid and deep, ensuring that your child shouldn't slip while climbing. Additionally, the extra-long slide has a buffer at the end to help your toddler decelerate on their way down the slide!
This helps protect their tush, so they don't fly off the slide and hurt themselves on the hard floor.
The basketball hoop on the side helps keep your toddler further occupied. The slide even includes a basketball to play with!
This is a really fabulous option.
If you're looking for a beautiful design, this slide is definitely the one for you!
This giraffe slide is a true stunner and is guaranteed to look fabulous in a playroom or child's bedroom. Or, honestly, even in a living room!
Like some of the others, this slide also features a basketball hoop on the side. It also has a fun ring toss area on the other side!
If you're looking for something a little more elaborate, this might be the perfect option.
This heavy-duty slide has a weight capacity of 110 pounds. There's also an attached swing – also with a 110 pound weight capacity – which guarantees that your kiddo will be busy for hours.
Additionally, there's a basketball hoop on the side.
But the crowning glory of this slide option is the included ball pit! Yep, that's right, your toddler can go down the slide into a ball pit full of balls!
Can you imagine anything more fun?!
The inflatable ball pit is included, as are 300 balls. How fun!
This fun slide also has a basketball hoop, and additionally has a super cute car design!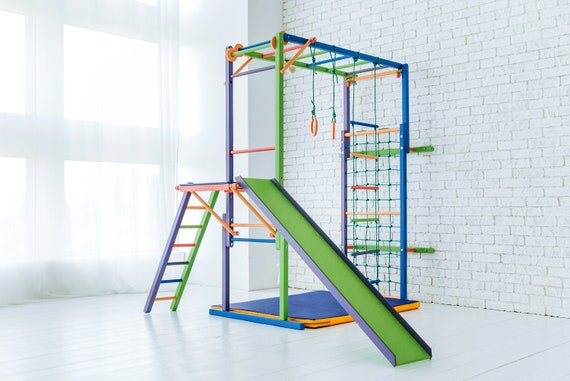 If you have more space and more money to spend, this indoor jungle gym is INCREDIBLE.
Once mounted securely to the wall, the entire structure FOLDS UP for easy storage.
Which, what?! That's incredible.
While unfolded, your kids can play with 8 different features – monkey bars, a rope ladder, a wooden ladder, gymnastic rings, a climbing rope, a rope wall, a swing, and a slide.
This option is a bit better for slightly older toddlers – their recommended age is 4+.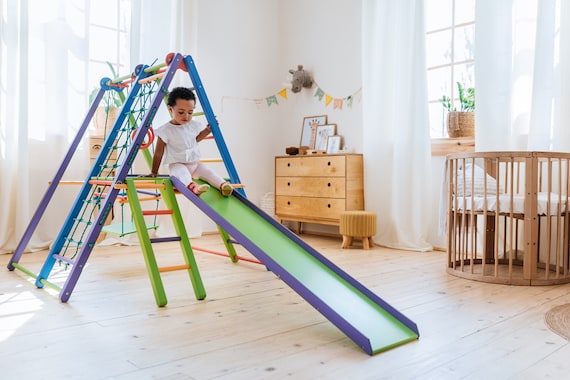 This is another great option by the same company for younger toddlers.
This beautiful play structure also folds up flat for storage, but when set up offers all sorts of fun activities for your kid, such as – 2 different wooden ladders for climbing, a swing, a slide, and gymnastic rings. How fun!
The playset weight limit is around 60 pounds, and their recommended age for this particular set is eighteen months.
Add in another layer of fun for your toddler with this Wheels on the Bus climber!
The slide features a fun bus, and the steering wheel plays "wheels on the bus" and honks when you honk the horn.
The interactive musical dashboard also has an ignition and gear shifter for even more imaginative play.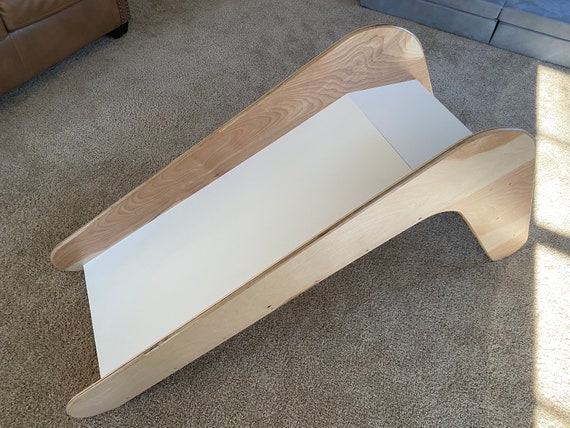 If minimalist Scandinavian design is more your thing, this is the perfect option!
Sleek lines and beautiful design truly make this slide a work of art.
The artist in North Carolina makes each one to order, and you can choose maple or birch with a white slide. Shipping for this one is a pricey $100, but if you're local-ish in central North Carolina, you can make arrangements with the artist to pick it up in person!
No matter what your design preferences or budget, there are tons of great indoor slide options here.
The best part is that almost all of them are also safe for outdoor use! That way, your toddler can stay busy and active in the winter, and when the weather gets nice outside, move that little slide right on out to your patio for springtime fun!