Sand and Water tables for toddlers entertain them for hours! Here are some of the best sand and water tables on the market right now.
I've never once met a toddler who doesn't love playing at a sand and/or water table.
My kids could stand and play at them for *hours* when they were younger. There's just something about the draw of a water table!
I especially love the water/sand table combinations, as they truly offer an endless amount of creativity for little ones.
In a day and age when so many kids would rather plop down in front of a tablet or TV, it's so great to find a toy that helps keep their mind working.
Here are some of my favorite toddler sand and water tables for kids!
This post may have affiliate links. If you click one of these links and make a purchase, we will be paid a commission at no additional cost to you.
Best Sand and Water Tables

This table is SO neat! This two-sided table has separate areas for both sand *and* water.
Protect the sand area with a "volcanic" rock lid (and, bonus – it keeps out pesky neighborhood animals who want to use the sandbox as a, um, toilet!).
The table comes with seven great accessories featuring four dinosaurs, two sand or water scoops, and a shovel/rake combo, guaranteeing hours of amusement enjoyment, and creativity from your little ones.
Another bonus? This table is big enough for multiple kids to play at the same time! 
This is another fabulous option for an activity table with separate sand and water areas.
The sand and water areas are separated by a molded-in roadway, allowing for even more creative play.
This table comes with six fun accessories – two boats, two bridges, a double-sided rake and shovel combo, and a cup.
The best feature, however, is the attached umbrella!
This way, your kids can spend hours playing outside without fear of sunburn.
The sand and water areas both have separate drains to easily clean out your water/sand table – an absolute must, trust me! 
This fun option features a water tower with maze-like water slides which kids will absolutely love.
Choose from water, sand, or both with this table – kids can combine the water tower and mountain lid cover to create a huge splash of water into the bay.
Like other Step2 products, this comes with fun accessories to aid in pretend play – a water tower, removable cup, shark scoop, slide, spinner, and a shovel/rake combo.
This table also has an attachment for an umbrella, though the umbrella is sold separately.
RELATED: Best Puzzles for Toddlers
RELATED: Best Indoor Slides for Toddlers
This is a truly versatile activity table. Winner of the Parents' Choice Aware and the 2017 National Parenting Product Award, this activity table is perfect for sand play, water play, and even things like arts and crafts, blocks, picnics, and snacktime.
In fact, this table even has four cup holders!
You can arrange this table to create four different and unique configurations.
The bins can be used for water and/or sand, or you can use them as storage and play on the tabletop.
I think this is a really incredible product simply because of it's versatility and design! 
Okay, so this is basically the Mercedes of sand and water tables, but it's so delightfully fun that I absolutely had to include it in this list.
This is basically the most incredible little playhouse, and it includes an outdoor kitchen, prep area, AND a sand and water play area!
The patio playhouse even boasts its own little grill, and includes lots of fun accessories to play in the water and sand areas.
In fact, in addition to the grill, this playhouses boasts a snack table, water table, sand cover, canopy, *and* a sixteen piece accessory set in its own mesh accessory bag!
Like I said – truly the Mercedes of activity tables!
What an incredibly neat idea!
This picnic table has a removable top – one side is a standard picnic table, the other side is a chalkboard for kids to write on.
Remove the top completely, and you'll discover two bins for water and sand play hiding underneath!
Once again, I love the versatility of this option.
Pricey? Yes, but it's also handmade with rounded edges for your child's safety.
I also love any toy that does double-duty, so I adore the fact that your kids can have lunch at this table before taking the top off to play in the water table! 
This is a great option for a young toddler. This is a smaller activity table, but still has separate areas for sand and water.
It also comes with several fun accessories, including a watering can, a small sailboat, a shovel, an octopus, a starfish, a fish, a duck, and a crab.
Bring the beach to your backyard with this fun little activity table!
Additionally, the table comes apart and packs very easily for those who want to actually pack it up and take it to the beach!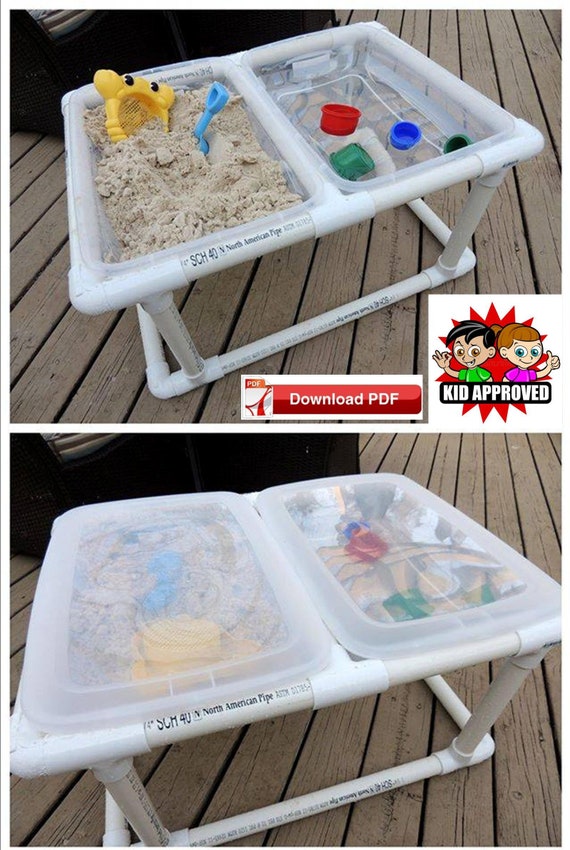 If you're handy and don't feel like shelling out the cash for one of the activity tables above, you might consider grabbing these cheapy plans on Etsy and building your own!
They estimate that the cost to build your own is around $25, and is as simple as grabbing some plastic bins and PVC piping!
Reviews for these plans say that they are very clear and easy to follow, so this would work well even for novice builders! 
With so many fun sand and water activity table options, it's hard to choose just one!
But no matter what you pick, rest easy knowing that your children will have an absolute ball no matter what you choose.
And if you live somewhere you can't play year-round, a friend once suggested putting your activity table inside your house in a shower and letting the kids play there during the winter.
We've done this, and it was a huge success! It's a great way to stretch even more use out of this toy.
Do you have a favorite sand and water table for toddlers or kids? Let us know which one you love in the comment!