Puzzles are one of my favorite toys for toddlers.
They're fun, interactive, something you can do together as a family, and they help your toddler's brain development.
If that isn't a win-win toy, I don't know what is!
Shopping for puzzles can be really overwhelming though – there's just so many options, it's hard to know where to begin.
Here's a roundup of my favorite and best toddler puzzles to help streamline your decision-making process.
Best Toddler Puzzles
I'm a *huge* fan of Melissa & Doug toddler toys.
They're well-made, usually made out of wood, and boast bright shapes and colors to catch your little one's eye. This wooden toddler puzzle set has brightly colored animals and is just *so* fun.
One puzzle has pets, and the other set has underwater animals. The large wooden knobs make it easy for your little one to grasp and maneuver the puzzle pieces.
Similar to the animals puzzle set, this shape puzzle for toddlers has fun bright colors and big knobs for your little ones to grasp.
This puzzle also helps them learn their shapes – oval, rectangle, square, and triangle.
It's hard to say no to a fun, beautiful puzzle that also teaches your toddler!
I think my favorite thing about Melissa & Doug puzzles is that they are so beautiful to display in your home – no ugly kids toys here!
I know, I know, another Melissa & Doug shapes puzzle, but this one is a bit expanded with even more shapes (adding a circle, pentagon, diamond, and octagon to the mix).
This might be more helpful for slightly older toddlers as they begin to learn shapes beyond the basic options.

Rolimate Magnetic Fishing Game Puzzle
This 14-piece puzzle is visually delightful and helps toddlers identify shapes while working on their fine motor skills.
They can "fish" the puzzle pieces out with a magnetic fishing pole, and then place them back into the puzzle in the correct locations.
This puzzle is also a solid, wooden puzzle with lively colors and beautiful underwater creatures.
There are no pointy bits anywhere for your little one to scrape against since it has rounded corners!
The Rolimate shape sorter puzzle is a little different from the previous puzzles, but this toy will help your little one with color *and* shape recognition.
They can sort the pieces by shape, color, and stack them creatively to work on their own creation.
The peg-and-hole design also helps them with problem-solving, as they try to figure out which shape goes where.
The brightly colored shapes are painted with non-toxic, water-based paint so no worries if the large pieces find themselves being made into a chew toy!

For your older toddlers, this wooden alphabet puzzle is a great way to start familiarizing them with the alphabet.
The bright, bold colors and chunky letters make it easy to handle the pieces with small fingers, and the puzzle even comes with an adorable carrying pouch to store the letters in when you're not using them!
This would have really come in handy in my own home, where we were always looking for errant alphabet puzzle pieces whenever we pulled out our alphabet puzzle!
This number and shape sorter puzzle is really, really neat!
Not only does it help toddlers get to know their numbers and shapes, this puzzle also teaches them to sort colors, count pieces, stack blocks, name colors, and further develops fine motor skills as they practice putting the counter rings on wooden pegs.
Beyond that, this puzzle is just visually really lovely! I especially love this toy because it really helps develop hand-eye coordination and work on color identification.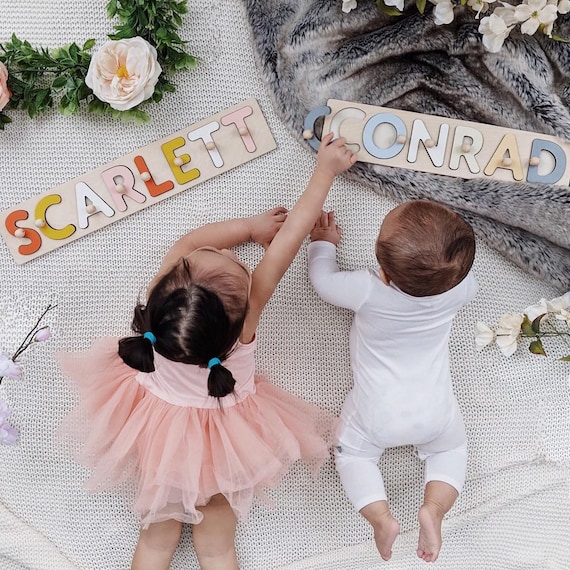 If you're looking for something a bit more personal, this lovely personalized name puzzle is perfect!
Personalized with your child's name, this puzzle also boasts knobs on each puzzle piece so that your child can easily handle the pieces.
This is a great way to work on alphabet recognition while teaching them how to spell their names as well! This would be a truly fantastic baby shower present.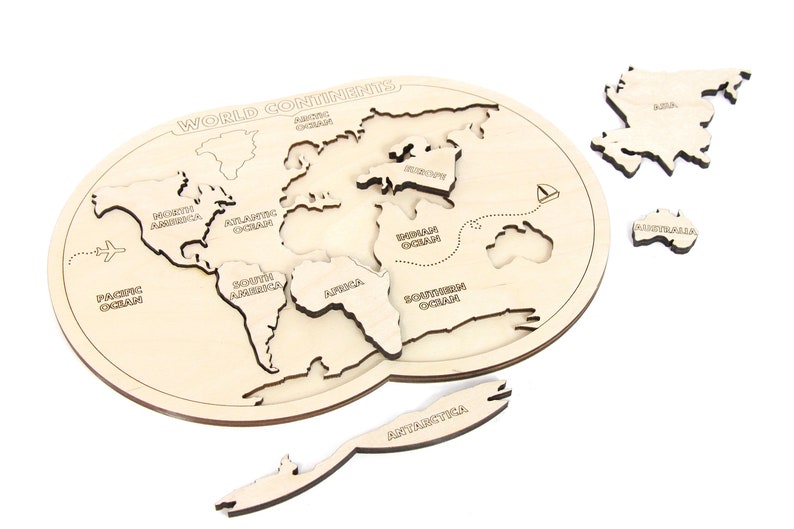 This gorgeous wooden world map puzzle is both visually stunning *and* perfectly educational – the best possible two-for-one when it comes to kids' toys!
Help your toddler become familiar with the continents while also working on fine motor skills with this beautiful handmade puzzle.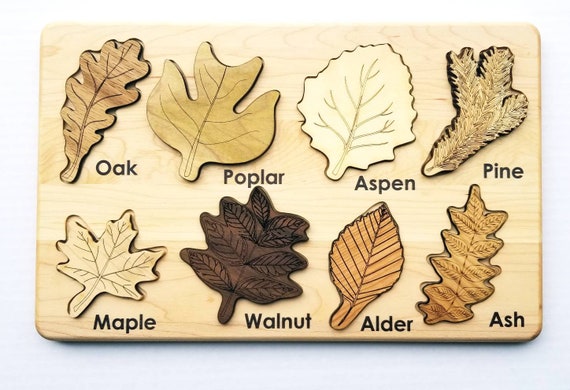 This puzzle is definitely a notch above, price-wise, but the design is truly beautiful.
This natural wooden puzzle helps your child match shapes while also familiarizing themselves with some lovely common leaves.
What I absolutely adore about this puzzle is the extra special details the artist has added.
While the puzzle base is made of maple, each leaf is made out of the specific type of wood shown in each leaf. For example – the poplar leaf is made of poplar wood, the oak leaf is made of oak wood, the walnut leaf is made of walnut wood.
The front of each leaf puzzle piece is its own natural wood color, and the back of each leaf is painted a beautiful fall color to help teach your child about leaves changing color.
This wooden leaf puzzle is accompanied by a pdf file that explains aspects of each leaf along with real photos. This puzzle is unique, beautiful, and perfect for a budding naturalist!
There are so many puzzles out there, but I hope this list helps trim it down to a reasonable number of the best toddler puzzles.
Whether you're looking for shapes, numbers, letters, or a combination of any or all of the above, you're sure to find something your toddler will love!