Looking for a crib that is cheap and cute? Check out these cheap baby cribs, perfect for your baby nursery.
When researching what crib to buy for your baby there are several important things to consider.
Safety is always my number one concern.  All the cribs on the market (even the cheap baby cribs) all meet the safety requirements. 
The main safety concerns would be the size between the slats (there is a specific distance the slats are legally allowed to be away from each other) and the paint or stain used.
The next most important item on my list would be asking: does it sidecar?  This ended up being how we used our crib the most. 
Please note that if you plan to bed share or cosleep, I strongly suggest you read up on how to do it safely.
Size is another factor.  Sometimes the baby's room is tiny and you are looking around before furniture is in there wondering how in the world you will be able to fit everything into this room.  Other times the baby's room is fairly large and so a larger crib is easier to fit in the space.
My neighbor is having twins and while the room they will be in is decently sized, having two cribs fit into the space is a bit of a stretch.  She found some really cute, basic smaller cribs that fit the room perfectly and are adorable.
My sister also had twins, but the room the twins are in, there was no problem fitting two cribs in the space as well as the other furniture she wanted in her nursery.
So the room your baby(ies) will be in needs to be taken into account.
Here are some great cribs that are affordable.
Best Cheap Baby Cribs
All these cribs are cheap and safe.  Plus, they should all be able to be shipped right to your door.  Can I just say how awesome that is?  Especially with larger, heavier items.
Dream On Me Carson Classic 3-in-1 Convertible Crib
I love the simplicity of this crib. This is probably one of the cheapest cribs you can find, if you are buying new and for the price it gets the job done.
Some features of this crib:
converts to both a daybed and toddler bed (the toddler bed needs a separate kit)
three adjustable mattress levels
doesn't take up a lot of space
comes in natural
One con of this crib is that it is the wheels can be hard to tighten. If you aren't planning to move the crib a lot, you may want to consider keeping the wheels off.
I do believe you can sidecar this crib, but again be sure to double-check this if this is a feature you are wanting.
DaVinci Grove 4-in-1 Convertible Crib in Espresso Finish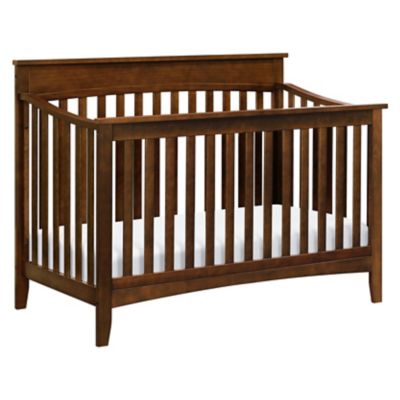 This is a gorgeous looking crib for your little one! It is sturdy which should make it so it can easily stand up to years of use.
It is easily convertible, which means it can be changed from a basic crib to a toddler's bed or a daybed (so should be able to be sidecarred) and finally can also be used as a full-sized bed. This means that once you buy this crib, if you want it can be the only bed for your child that you will ever have to buy!
It has a beautiful yet non-toxic paint that looks great with all types of decor and would go well with most furniture types since it is neutral in color in pinewood finishing.
Moreover, with such color and finishing, it can be kept in the baby's nursery as well as next to your own bed. You can also use it for baby number 2 since it is gender-neutral.
Pros
It is a solid piece of furniture.
Includes a toddler railing
It is very easy to assemble.
It has 1-year warranty.
Meets all international ASTM international and U.S. CPSC safety standards.
Cons
You have to purchase the kit to make this crib into a bed.
The color may look darker in person than in pictures.
Dream on me Anna 4-in-1 Convertible Crib and Changing Table Combo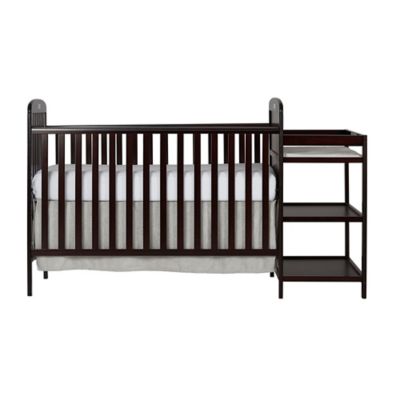 This is the ideal crib if your baby's nursery will be small in size and you want to make the most by maximizing the space available, without having to add extra furniture.
It is equipped with both a crib as well as a changing table.  There are also two large shelves under the changing table part so you can keep additional baby items in a place with easy access all the time.
This crib also converts into a toddler bed, a day bed (believe you can sidecar this crib, even with the changing table attached, but please make sure to double-check) when the baby grows out of the crib. Please note if you plan on converting this crib, you do need to purchase the conversion kit.
Pros
It has a small footprint, so if you don't have a nursery you can keep it in your room.
It is very strong and durable
It includes clear instructions in the packaging.
It includes the changing table, so you don't need to buy another piece of baby furniture.
Cons
The overall style and design of the crib is very plain and may be unappealing to some people.
DaVinci Kalani 4-in-1 Convertible Mini Crib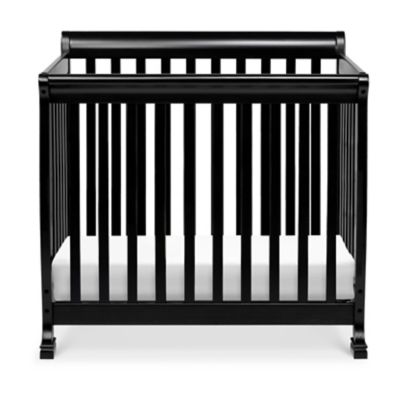 This is the ideal choice if you are looking for a mini crib that is quite stylish yet functional.
It is extremely compact and user-friendly.   
This crib is available in a variety of finishes, so you can choose the one that goes the best with the overall ambiance of your place. From white, chestnut, ebony and grey finishes, this crib has a great variety of colors!
Pros
It is easy to assemble and easy to put away for storage as well.
It does not take up too much room and fits perfectly in most spaces.
It converts to both a daybed and a toddler bed if you also purchase the conversion kit.
Cons
The crib is quite low and may require the parent or caregiver to bend down to pick up the baby.
Larger or taller babies who move around a lot may not be comfortable in this crib due to the small size.
Dream on Me Piper 4-in-1 Convertible Mini Crib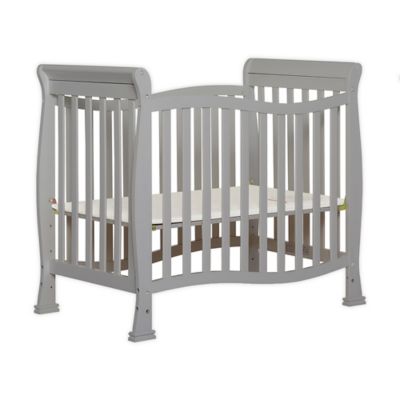 Priced very competitively, this crib is made of solid construction which is long-lasting and durable.  This crib is gender neutral and will blend in easily with all kinds of furniture.
You can choose between gray and white. The size of the crib is also compact, making it practical yet functional for use.
Pros
The small size is ideal for closed spaces or a small nursery.
The process of assembly is quite simple.
The design in unique and stylish.
You can convert this crib into a toddler bed, day bed, as well as a youth bed if you purchase the conversion kit.
Cons
Finding bedding for mini cribs can be harder than the standard sized cribs.
Grayco Benton 4-in-1 Convertible Crib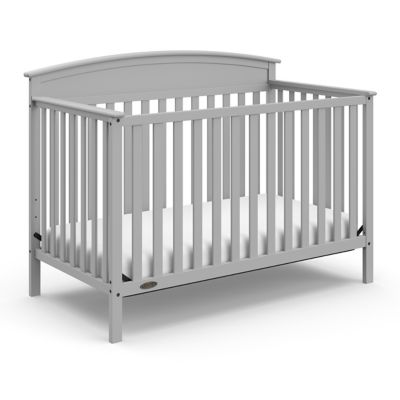 A major part of the beauty of this crib is that it is simplistic. 
This crib is available in a multitude of colors, so you can choose one that matches your nursery.
Pros
It is long-lasting and durable.
It has a solid construction making it safe for the baby.
You can easily convert it to a toddler bed, day bed, and full size bed if you choose to purchase the conversion kit.
Cons
The highest setting can seem low if you short.
DaVinci Alpha Mini Rocking Crib

This DaVinci Alpha Mini Rocking crib is a great choice for small spaces and it can also be moved around from one place to another very easily.
It is completely non-toxic which makes it very safe for babies and is also lead and phthalate safe.
It is available with wheels so you can easily transport it from one room to another.  If you don't want the wheels they are easy to remove. It is stylish yet very functional.
This crib is another with a small footprint and can fit through standard doorways.  It also comes with a waterproof mattress pad that is an inch thick and has 4 levels of mattress support as well.
Overall, this crib is solidly constructed, making it durable and sturdy along with strong slats which are able to keep your baby safe and secure.
Pros
The wheels are both attachable as well as detachable
It is very user-friendly
It is compact
Cons
It is good only for small, light babies
There are many different cribs available, even cheap baby cribs.  You just need to decide what is important to you when making the decision. 
Also, remember some of these that are more portable or work better for lighter babies might not be the best choice if you are planning to use this crib long term with your baby.